Our Trusted KeenTeam
"Coming together is the beginning. Keeping together is progress. Working together is successs."
– Henry Ford
Whether we're trying to reach new heights, make life brighter or stay on the cutting edge of technology, our team strives to provide our customers with the best service and material available. At Keen Ltd., all of our sheet metal products are made in Bermuda, by Bermudians!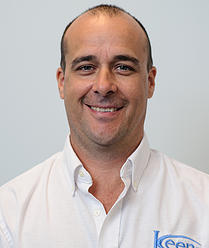 Stephen Roberts
As one of the founders of Keen Ltd., and having previously worked in the high lift rental business, Stephen wanted to form a rental company that would reach new heights! After starting off with one machine, the business now offers the largest selection of rental machines on the island, with twenty models of varying height reaches available. With buildings becoming taller and more complex, Keen Ltd. is the best-equipped Bermuda business to assist you.
Mike Zimmerman
The Director of Keen Ltd., Mike has worked in the Sheet Metal industry for over 30 years in Bermuda. Also a founder of the company, Mike and his team have successfully established the largest independent sheet metal shop on island, boasting over 9,000 square feet of floor space. Mike recognizes that Bermuda, in today's market, demands high-quality service and competitive pricing. In response to demand, he introduced the only state of the art IPI Starter Coil Line and Spiral Duct machine used here.
Charlie Zimmerman
Project Manager of the Sheet Metal Division. With over 30 years in the trade.  Charlie has a great understanding on how to get your job done on time and under budget.  He works well with the clients and brings new ideals to the table.   
Kevin Medeiros
With a diverse background and experiences I've been involved within the construction industry since 2000 from working in the trenches to senior level management. I have a Certificate in Electrical Wiring Technology as well as well as a Certificate in electrical project managing. I have over 14 years' experience within the Construction and electrical industry. I Have worked only many large scale projects such as KEMH redevelopment, MEWI , Water Restoration plant W&E ,BCB building, VOR project LF Wade  and many other large commercial and residential projects throughout the island.